When NRA led by Yoweri Kaguta Museveni (@KagutaMuseveni) took the instrument of power in 1986, many praised the young guard of people for being brave fighters. #WhisperEyeNews #UGAt60
After defeating dozens of armed groups to eventually taking meaningful state power by then.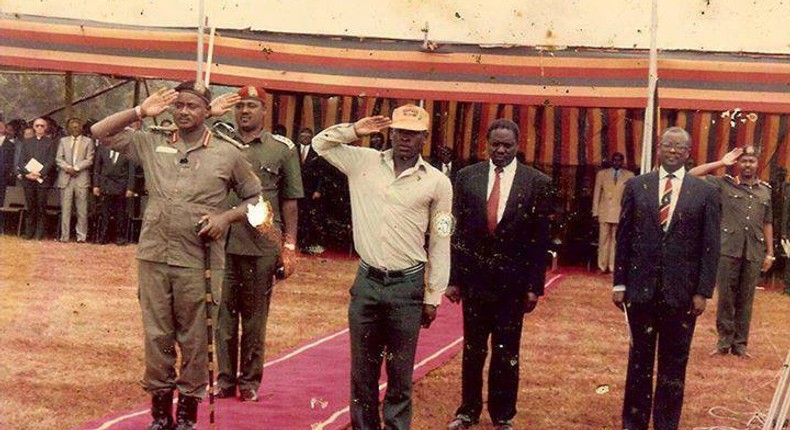 This was followed by propaganda tactics that indeed also led to many believing rebel leaders of Gen YK Museveni were immortal .
That wasn't the case as things continue to unfold showing President Museveni's security weakness which he has worked to fill the gap to date,
On 9th October Independence Day, in 1993, was celebrated at Kololo grounds then a man who came to be reported as John Mukwaya beat heavily guarded Kololo grounds and the entire security detail of president Museveni, he saluted alongside him.
It came to light that John Mukwaya was a madman, an idiot of sorts who had love for president Museveni and his entire team of leaders.
President Yoweri Museveni's entire security stood at arm's length with the president until the national anthem finished playing. Then, President Museveni in his military wear was shocked by the unknown person standing beside him and asked him who he was.
The man when asked who he was, President Museveni was informed, "your ADC John Mukwaya"! shock the fragile security detail by then immediately whisked away John, shocking even Army Maj Gen Mugisha Muntu commander then.
Until now at Whisper Eye, reports and whereabouts of John Mukwaya are still fragile as many insiders say the man was first arrested and interrogated until it was discovered he was mentally sick.
President Museveni ordered his release after being briefed about his mental condition.
It is now 9th October 2022 Yoweri Kaguta Museveni's reign as the President of Uganda is on until 2026.