Big Story: Diamond Trust Bank upset as Tycoon Hamis Kiggundu appeals Court of Appeal ruling at Supreme Court
Reading Time:
3
minutes
Kampala businessman Hamis Kiggundu in the wake of Wednesday's Court of Appeal judgment quashing the Commercial Court's ruling in the multi-billion lawsuit against Diamond Trust Bank (DTB) Uganda and Kenya, had announced that he will appeal to the Supreme Court.
We can authoritatively confirm that the disgruntled young Tycoon through his companies Ham Enterprises and Kigs Investments Uganda Limited have filed a Notice of Appeal before Court of Appeal and Supreme Court expressing their dissatisfaction with the decision of the Appellant Court.
Last week, Court of Appeal unanimously nullified orders by Commercial Court ruling ordering Diamond Trust Bank Uganda and Diamond Trust Bank Kenya to refund over 120 billion shillings to him which Ham says was an illegality in that regard.
This has prompted him to file an appeal to the Supreme Court of Uganda seeking to overturn the Court of Appeal's decision.
According to a notice dated May 10, 2021 served to both Registries of the two courts, Ham lawyers wrote thus..
"Take notice that Ham Enterprises and two others being dissatisfied with the decision of Honorable Justice Christopher Madrama, Justice Kenneth Kakuru and Richard Buteera given on 5th May 2021 intend to appeal against the whole decision." reads part of the notice
Through his lawyers, Muwema and Company Advocates, Ham has also asked the Court of Appeal seeking to be addressed a copy of record proceedings so that they can be able to prosecute the appeal.
"We have been instructed to appeal to the Supreme Court against the whole decision of the justices of the Court of Appeal given on the 5th Day of May 2021, we hereby apply for a certified copy of the Record of Proceedings to enable us prosecute the appeal," the notice served to the Court of Appeal from Muwema and Co. Advocates reads in part.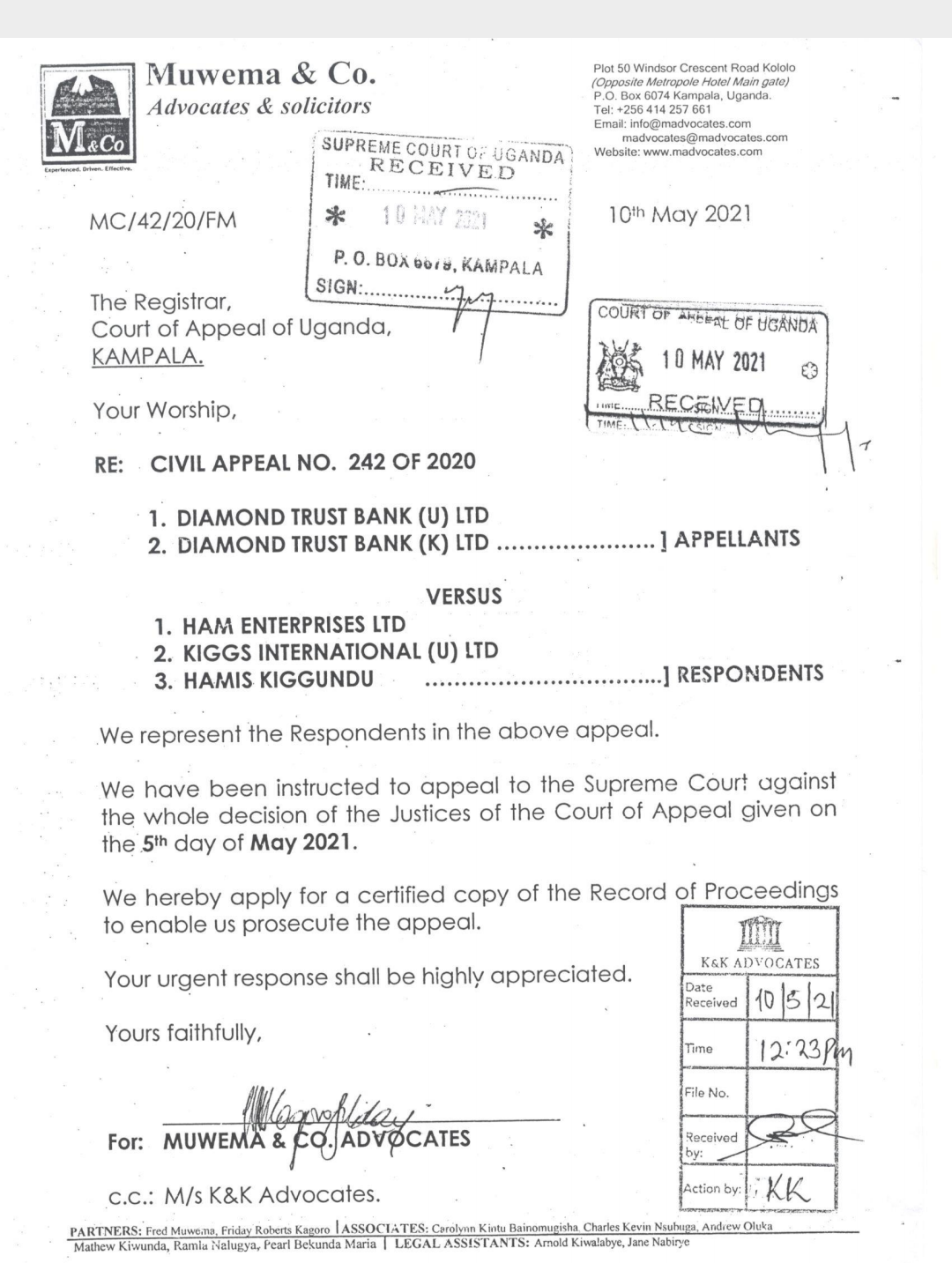 Copy of the Notice of Appeal letter
Mr Kiggundu, through his companies sued DTB Uganda and Kenya in January last year for alleged breach of contract.
The businessman had borrowed money from the two institutions and had fallen behind on his repayments. The banks attempted to collect what he owed them, but the businessman filed a suit in the Commercial Court citing irregularities in the lending agreement.
The businessman sought declarations that the bank breached different loan agreements entered into between February 16, 2011 and November 16, 2019, a charge which the banks denied.
The banks argued that Mr Kiggundu and his two companies held accounts with them and on various dates borrowed $6.7m (about Shs24b), Shs1.5b, Shs1b, $4m (Shs14b) and $500,000 (Shs1.8b). They also argued that DTB Uganda acted lawfully and that it was not an agent for its Kenyan counterpart.
Justice Henry Peter Adonyo declared that since DTB Kenya was not licensed to conduct financial business in Uganda, the loans extended to Ham Enterprises were irregular, null and void. He also held that by acting as a collecting agent for DTB Kenya, DTB Uganda had contravened the Financial Institutions Act and Agent Bank regulations. The banks appealed the decision in the Court of Appeal.
However, on Wednesday, Justices Richard Buteera, Kenneth Kakuru and Christopher Madrama ruled that Justice Adonyo had erred in law when he faulted the lending arrangement and allowed Mr Kiggundu's firms to recover Shs34b and $23.2m (about Shs84b) from them.
"The judgment of the trial judge is set aside," Deputy Chief Justice Buteera ruled.
"An order is granted remitting the suit back to the Commercial Division of the High Court to be expeditiously fixed and heard by another judge," ruled Justice Butera.

Sponsored Articles